Optimizing Animal Wellness Worldwide
Brytin Feed Formulas have been carefully formulated by PhD nutritionists with the goal of optimizing animal wellness through applied science and practical experience.

Why do we do what we do? Because we know how much your pet means to you.
At Brytin we are practicing a new model of pet nutrition using premium ingredients to support the health of your pet. We feel that investing more in the quality of ingredients in your animal's diet will prove beneficial to your animal's long term well being. Over the past decade, 'functional ingredients' have assumed an integral role in human health, and also an increasingly vital role in Brytin's animal products.

Premium Ingredients
At Brytin our focus is on animal wellness. We use premium ingredients including flaxseed, rice bran, barley, papain, seaweed meal, and probiotics to support the long term health of your pet.

High-Grade Supplements
Brytin is working with a leading US Biotech company to offer advanced supplements like TheraBiotic 2X Probiotic, to support the immune and digestive health of your small monogastric animals.

Natural Cage Products
Brytin's Natural Cage products help you maintain a clean and healthy environment for your pet. Brytin Chinchilla Dust Bath and Brytin Corn Cob Bedding are 100% natural and made in the USA.
News and Events
Brytin is proud to announce that Link 2 Link Asia Pacific Pte Ltd will be distributing Brytin Products in Singapore.
Company name: Link 2 Link Asia Pacific Pte Ltd
Contact Person: Scott Ang
Address: No 6 Clementi Loop #02-16, Singapore 129814
Ph +65 62622216
Email: sales@link2linkco.com
Website: www.link2linkco.com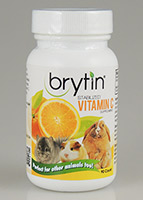 Brytin® C tablets are designed to promote healthy immune function in guinea pigs, rabbits, chinchillas, degus, and other small animals. Guinea pigs cannot synthesize sufficient Vitamin C, and require daily supplementation.
Features and Benefits
50mg of stabilized Vitamin C per tablet
Recommended by veterinarians
Contains real fruit
No artificial flavors or colors
Manufactured in a ISO9001, HACCP Certified Facility
For complete details see Brytin C – Stabilized Vitamin C Supplement
Distributor List
Worldwide Distribution Network
Contact one of our International distributors to inquire about carrying Brytin Products in your retail store.
Distributor List